The Nielsen Bestseller Awards 2021
Celebrating and thanking authors and booksellers
Debut novelist Richard Osman was the standout success of the night, as the only title to reach platinum status in the same year as publication. Matt Haig, Reni Eddo-Lodge, David Walliams and Tom Kerridge were also among those honoured.
Authors received honours for significant lifetime sales, as measured by Nielsen BookScan and PubTrack Digital across both print and e-book formats. The awards are based on UK sales volumes and were presented to those that passed sales thresholds during 2020 – Silver (250,000 sales), Gold (500,000 sales), and Platinum (1,000,000 sales). Twenty-seven titles were awarded Silver, Gold or Platinum status and the sales have helped contribute to another robust year despite the challenges that lockdown brought to the retail sector of the UK book industry with Nielsen Book estimating the total year at 202m print books sold to the value of £1.8bn. 
All titles that achieve Platinum status are inducted into the 21st century Hall of Fame, which now includes 149 titles. In 2020, eight books passed the Platinum Award million copy sales threshold. Although published in 2019, Charlie Mackesy's The Boy, The Mole, The Fox and The Horse was the bestselling title of 2020 and achieved Platinum status, as did Richard Osman's The Thursday Murder Club, who thanked booksellers in his acceptance speech:
There were three children's titles that achieved Platinum status: George's Marvellous Medicine by Roald Dahl, Diary of a Wimpy Kid: Cabin Fever by Jeff Kinney and The Boy in the Dress by David Walliams & Quentin Blake. Sally Rooney's Normal People and Robert Galbraith's The Cuckoo's Calling also became Platinum bestsellers, as did the oldest inductee into the 21st century Hall of Fame Pride and Prejudice by Jane Austen, originally published in 1813. 
Penguin Classics Editorial Director Jessica Harrison reflected on the enduring success of Pride and Prejudice, stating:
Matt Haig enjoyed a superb 2020 and received three awards: Reasons to Stay Alive (Gold), How to Stop Time (Silver) and The Midnight Library (Silver) — the paperback edition of which is currently a UK #1 bestseller.
Gold Awards were also presented to: Reni Eddo-Lodge for Why I'm No Longer Talking to White People About Race, Beth O'Leary for The Flatshare, Lisa Jewell for The Family Upstairs, Harriet Tyce for Blood Orange, Kathryn Hughes for The Letter and Christy Lefteri for The Beekeeper of Aleppo.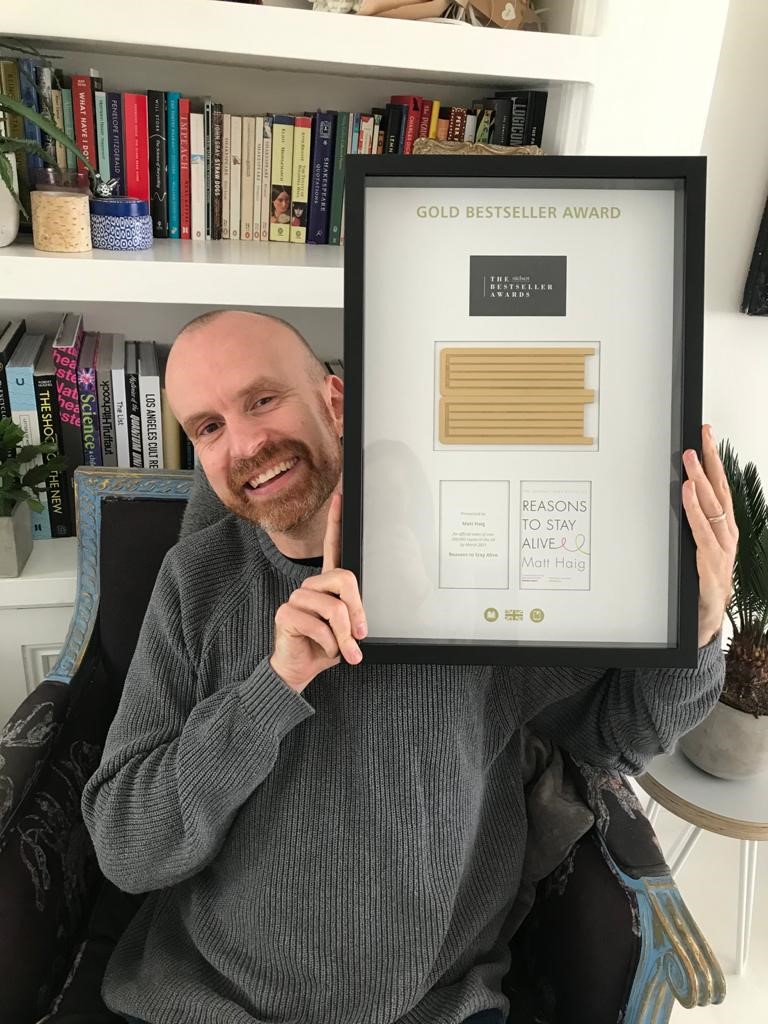 Want to watch our Bestsellers Announcement?
Silver Awards were presented to: Lucy Foley for The Guest List, Bridget Collins for The Binding, Matthew Syed for You Are Awesome, Heidi Perks for Now You See Her and Erin Kinsley for Found. David Baddiel has crossed the threshold for four of his children's books, The Person Controller, Head Kid, Birthday Boy & The Parent Agency.
Find out more about the Bestseller Awards and winners
To find out more about the awards, watch our announcements or see the full Bestseller Award winners and the Hall of Fame, visit our website here:  nielsenbestsellerawards.com/